The difference between Category 6 cable and Category 7 cable is mainly reflected in the following points:
1. Broadband and transmission
Category 6 network cables support broadband 250Mhz and 1000BAST-TX transmission, while Category 7 network cables can support 600Mhz and 10Gbps transmission.
2. Wire structure
Category 6 network cables can use unshielded twisted pair cables or shielded twisted pairs, but Category 7 network cables can only use shielded twisted pairs. One of the seven types of network cables is called a shielding layer. Every two wires form a pair, and then a shielding layer can be constructed. The four shielding layers are combined to form a common large shielding layer.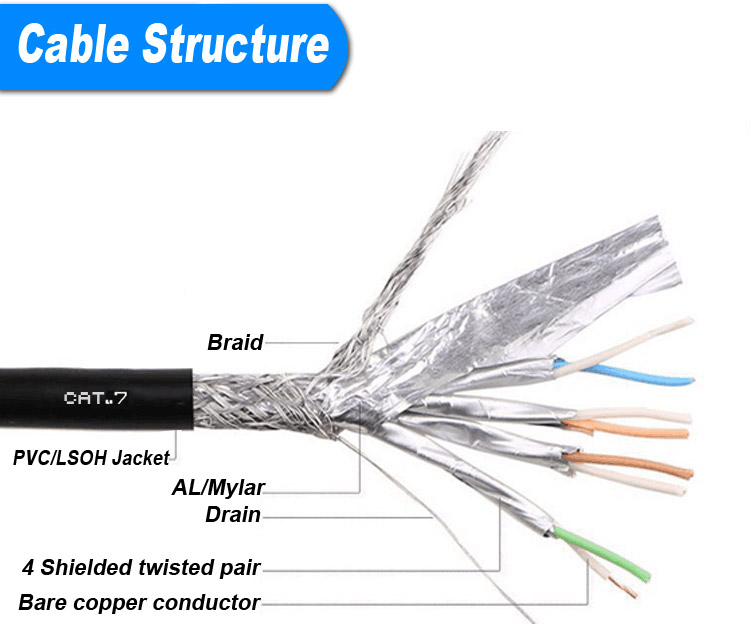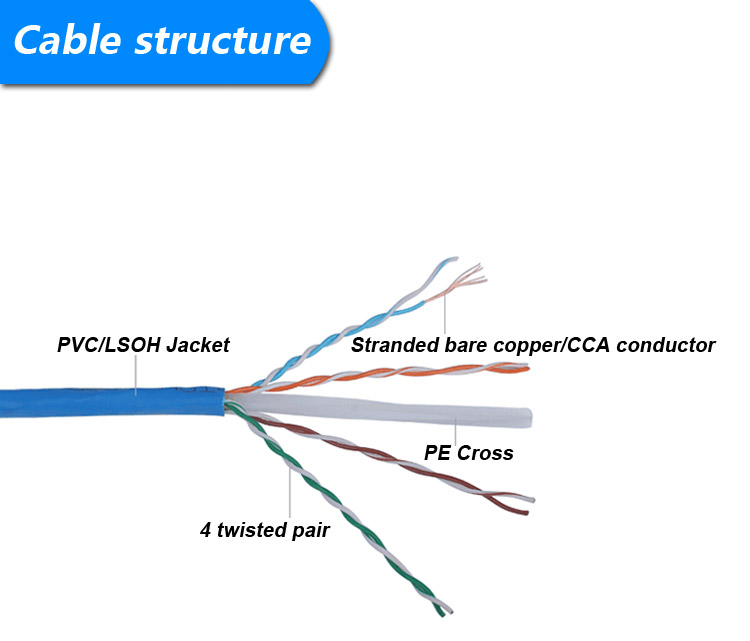 3. Application areas
Category 7 wires are widely used in indoor horizontal wiring, shielded computer rooms and confidential network wiring, and the shielding effect is far better than Category 6 wires. The cabling performance of Category 7
Network Cable
is improved significantly than Category 6 network cable, so its medium transmission capacity and attenuation level are almost equal to optical fiber performance.
4. They also differ greatly in their ability to connect to hardware.
Category 7 network cable requires its connector to provide at least 60DB of comprehensive near-end crosstalk when it reaches 600 MHz. Category 6 network cable should not exceed Gigabit speed when it is in use.
5. Conductor size
Category 6 wires can be used as 24AWG (7/0.20), 26AWG (7/0.16), 28AWG (7/0.12) conductors, and Category 7 wires are mainly used as 26AWG (7/0.16) and 28AWG (7/0.12) conductors.
6. Wire OD size
The OD of Category 6 cables is generally around 6.0mm, and the OD of Category 7 cables is generally around 6.2-6.5mm.
Shenzhen Kingwire Electronics Co., Ltd.
Business Type:Manufacturer
Product Range:Communication Cables , Electrical Wires , Data Cables
Products/Service:Ethernet Cable , Network Cable , CAT8/CAT7/CAT6/CAT6A/CAT5E , Lan Cable , Telephone Cable , Network Accessories
Certificate:REACH , RoHS , ISO9001
Company Address:Building 1, No.5 Industrial Zone, Nanlian Community,Ruiji Road, Longgang Street,Longgang District, , Shenzhen, Guangdong, China
Previous:
What is a LSZH network cable?
Next:
How to distinguish the quality of the network cables?