The CAT8 Ethernet cables cables are the latest generation of network cables.
The structure of CAT8 is same as CAT7 Ethernet cables. The cable are with double-layer shield (SFTP). It has two wire pairs,
CAT8 Ethernet Cable
Offers Faster Speeds and Better Performance, a 2000MHz channle bandwith and a transmission rate as high as 40Gb/s, but its maximum transmission distance is only 20m for CAT8 round
Ethernet Cable
and 15m for
CAT8 Flat Ethernet Cable
.
The Cat8 Ethernet cables are backward compatible with RJ45 connector interfaces of Cat5e, Cat6 and Cat6a and CAT7.
Cat8 Ethernet Cable is ideal for switch to switch communications in data centers and server rooms, where 25GBase?T and 40GBase?T networks are common. Its RJ45 ends will connect standard network equipment like switches and routers, allowing for 25G or 40G network upgrades that do not require a complete equipment overhaul.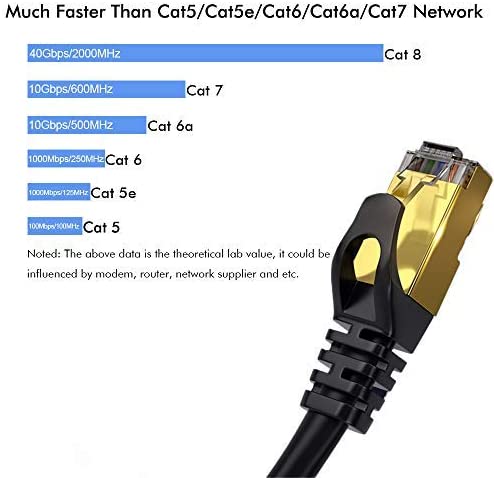 Shenzhen Kingwire Electronics Co., Ltd.
Business Type:Manufacturer
Product Range:Communication Cables , Electrical Wires , Data Cables
Products/Service:Ethernet Cable , Network Cable , CAT8/CAT7/CAT6/CAT6A/CAT5E , Lan Cable , Telephone Cable , Network Accessories
Certificate:REACH , RoHS , ISO9001
Company Address:Building 1, No.5 Industrial Zone, Nanlian Community,Ruiji Road, Longgang Street,Longgang District, , Shenzhen, Guangdong, China
Previous:
What Is CAT7 Ethernet Cable?